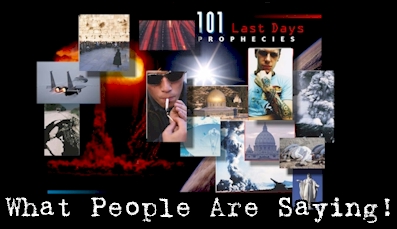 ---

"I can't begin to relate the impact this witnessing tool has had! It has been well received by prisoners in jail, by fellow co-workers who are not saved, by fellow church members who had no idea of the times we are in!!!... ALL of the responses are positive! Jailors are reporting return phone calls from released prisoners offering them thanks! Co-workers have begun an earnest search for the TRUTH by going to the various web sites provided! Church members are awakening from their slumber---and are finding Christ again with a renewed Love! ...Thank you! - Thank you! - Thank you!" ... Bill - Pasadena, CA


---

"The booklet was a smorgasbord of truth for the mind and heart. The best part is that I know the motivation behind this endeavor; not to "prove" your point or to advance your name, but to bring the truth of Jesus Christ and His saving power to the lost. Thanks for your passion, zeal, all wrapped in the truth of God's word!" ... JohnnyV, Creative Concepts for Youth Ministry


---

"I have really been enjoying your 101 Last Days Prophecies web site. I have spent a few hours there reading. Even though I knew most of the prophecies, I didn't know how they may be being fulfilled. Thank you for the work you have put into the site. It is a very valuable tool." Kindest Regards, Star Taylor, Eden Communications


---

"I used the 101 Last Days prophecies Booklet on the USS Nimitz working in the messdecks. I pass it around to everyone I know. They suddenly get hooked on the booklet and won't put it down until they finished. I just got the book from my wife a couple days ago. Already 12 people read it and most of them aren't christians. Thank You Harpazo for giving this booklet to My wife Veronica Starr and I Jeremy Starr."


---

"The 101 Last Days Prophecies booklet has been so useful and well received among those who are incarcerated. Prisoners generally have little access to teaching on prophetic events so they eagerly read it and then pass it on to others. The size of the booklet also makes it convenient to mail to those who need to hear about end time events." ... Nancy Stewart, Lynchburg, VA


---

"Thank You for these 101 last days prophecy booklets! What an eye opener! It makes not only a good tract for witnessing but it also has taught me a great deal more about the signs of the times. I think if more people could just know all these amazing things in God's word more eyes would be open and more people saved. I will be passing these out for sure!" ... Colleen C. Manahawkin, NJ


---

"We like using this booklet because of the simple format. It is easy to read and makes a great witnessing tool because anyone reading it can easily see the prophecies being fulfilled thus confirming the Truth of the Bible." ... Ray & Jodi R. - Lynchburg, VA


---

"Dear Friends in Christ ... thank you for sending us the booklets on 101 Last Day Prophecies. Bradley is teaching in Revelation now and we have Bible College students! The timing of receiving this information could not be better. Please pray that more would come to the knowledge contained within this books and it would lead to their repentance." ... Lori B. - Jerusalem, Israel


---

"Thanks for forwarding "101 Last Days Prophecies." I especially like how it is easy to read and has links to other websites. By the way, your website is really cool!" ... Dr. Harry Thomas, Come Alive Ministries/Creation Festival


---

"Grace and peace to you in abundance through God and our Lord Jesus Christ. I have prayed over the responses and content of this profound tool; 101 Last Day Prophecies. There is so much to grasp in our Father's teachings, but I am personally finding, that many have difficulties accepting and piecing together the Old Testament prophecies with Revelations.

Your booklet brings the threads of fabric of these last days together in a way that gives understanding to the reader. As the scriptures are looked up and read, the end time puzzle falls right into place. Scripture that we were told pertained, cleared up the mysteries and gave understanding when read in a dim light of learning. The facts such as #13 #21 #26 etc.

This booklet takes a Christ-centered approach, easy to follow, biblical fact reinforced. These booklets have prompted many women to pursue the truth in scripture in end times. The results are a reverence fear to God and serious sharing with family members and friends. It prompted a reality check as truth unfolded.

May God bless you for the time you tithed to produce these truths and your obedience when called to produced such a profound tool of knowledge."

Faithful in Christ, Celeste - Corr. Ctr. for Women, Goochland VA.
---

"I just received the 101 Last Days Prophecies booklet, and I love it!! I just wanted to thank you, and let you know that I love your website!!" ... Erin


---

"The booklet is excellent. I'm anxious to show it to our pastor." ... Cyndi B, Michigan


---
"I have received this booklet through Lamb and Lion Ministries as a monthly gift. I have read through the booklet and found it to be very relevant to the events taking place in our day. This is a wonderful study guide in which even a skeptic of the word of God would have to question the word of God and the current events as not a coincidence but God-incidences. The word of God is still very much full of life and can be seen today by those which would discern the times in which we find ourselves today. I have purchased several of your booklets through Lamb and Lion Ministries and am in the process of distribution. I have also forwarded this site to others. Thanks again for taking the time to put this together." ... Mark Remsburg

---